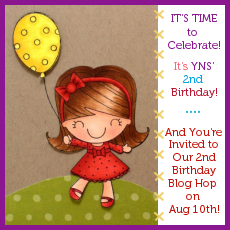 Hey everyone and welcome to YNS' 2nd Birthday Blog Hop - we are so happy you are here celebrating with us and our wonderful guest designers! If you have been hopping along and are arriving from
Diana's blog
then you are right on track! But if you just happened across my blog and want to join in all the fun and games, then you can go to the start at
Peggy's blog
.
What is a birthday party without games and some AMAZING prizes? Well we have a fun little puzzle for you to solve along the hop and when you do you will be entered into the draw for one of TWO amazing YNS prizes:
Not everyone has a puzzle piece so you need to pay attention, and click on the puzzle pieces, and follow the directions as you find them along the way (3rd party cookies must be enabled to do the puzzle). When you are done put them all together at the end of the hop for your chance to win! You have until Monday, August 15th, at Midnight EST.
*****And now on to the show!*****
Today I have 2 projects (because it's YNS' 2nd birthday!) to share with you. The first uses the new set
Yummy in My Tummy
(isn't that such a fun name?):
I used the
August Sketch For You To Try
and some adorable papers from the My Mind's Eye
Life of the Party
6x6 paper pad.
The image was stamped and colored with Copics, then I added an extra popped up spoon, clear dimensional adhesive all over the glass, and custom dyed bugle beads for the chocolate sprinkles (I just put them on a little disposable plate and dripped brown Copic reinker on them). The sentiment is cut from one of the papers in the pad.
My second project is just a bit more complicated. Here's the outside shot:
And here's the inside:
You can see that the candle flames' "halos" are attached to the front and back layers so they pop out when you open the card! I used the
Make A Wish
set (one of my fave YNS sets!),
Eat Cake and Be Merry
(inside sentiment), the MME
True Blue
6x6 paper pad and Make the Cut. I can't take all the credit though - the idea came from an old book I was looking through called "Making Great Handmade Cards" from Hot Off the Press. The card in the book had hand-cut layers and I knew I could do it more easily with MTC and my Cricut!
The whole card is cut through MTC except for the individual candles. For those, I stamped the flames on white and colored with Copics, then paper pieced the bottoms. Even the sentiment banners were cut through MTC! Finally, I finished the card off with some pumpkin orange and white
Timeless Twine
.
There are also lots of amazing deals right now in the YNS store to celebrate and you don't need any code! The next stop on the hop is the totally fabulous
Carole
! Good luck and happy hopping! ~Maureen
YNS Birthday Puzzle Piece